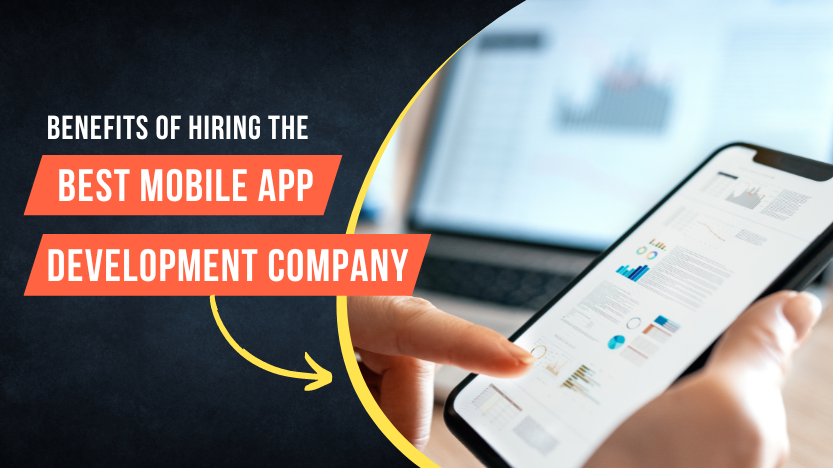 Read Top Benefits of Hiring the Best Mobile App Development Company to outsource your project. Know in detail here.
The world has experienced a full revolution thanks to modern technologies. Modern mobile phones fulfill a variety of uses in addition to calling and texting.
The availability of inexpensive internet access has expanded the use of the different mobile applications accessible on smartphones. To learn more about the benefits of hiring the Best Mobile Application Development Company, read this blog.
Mobile phones enable rapid completion of all transactions. The need for Android app developers' services and their offerings is increasingly important to the entire world. Therefore, company owners can see how important mobile applications are to expanding their brands.
It's important to develop mobile applications properly. To fulfill your goal of developing an innovative mobile application for your business that meets your needs, you should cleverly employ a mobile app development company. The growth of your business is highly dependent on mobile applications.
9 Benefits of Outsourcing to the Best Mobile App Development Company for your Project
You have two options for developing mobile apps: either hire dedicated developers or outsource to the top mobile app development company.
The best option is to hire a specialized development team from one of the best mobile app development companies in the world because they offer several benefits over contract employees. Let's explore the many advantages that an active participant may offer in more detail.
1 – Safety at Work
The fact that a mobile app development team is in charge of security is one of the main advantages of doing so. The team takes great care to protect all of your business data and information. They provide your project with top-notch security.
2 – Cost-Effectiveness
Always Develop Mobile Apps Cost is practical and efficient. They can help you with any kind of app, including gaming and e-commerce ones, and can help you complete your project on time and within your specified budget. Customized services will also be given to you.
3 – Accessibility of Resources and Knowledge
The availability of resources and knowledge, which comes as a full package when you sign a contract with the team, is another important advantage of hiring the best mobile app development company. You may have access to the most recent software languages, licenses, and tools required for the creation of mobile apps by employing team services.
4 – Delivery of Quality Products
A development team will go to any measures to maintain its reputation because it has one. They are also updated with new programming languages and cutting-edge technology. As a result, they put in a lot of effort and think strategically to produce top-notch products that get favorable reviews when the app is launched.
5 – Dealing with Legal Issues
Hiring a professional mobile app development company reduces the risk of running into legal problems. Due to their legal abilities, the team provides consistency in the work. You can be sure that the mobile app development company will follow the rules specified in the agreement they signed with you.
Also Read, 11 Reasons Why your Business will need a Mobile App Development Company in 2023
6 – Track Your Project
Once you hire a dedicated development company, you have complete control over them. The mobile app development company divides the project into multiple manageable sections, who also properly schedule each work. You may monitor the progress of their work and any time adjustments made to each stage of the procedure.
7 – Guaranteed Results
Since the mobile app development company is made up of highly qualified developers, your project may be developed using the most recent technology. Boost team output early in the day. They can ensure the project's success since they have experience.
8 – Post-Maintenance Services
The work of mobile app development companies doesn't end after your project is completed. Additionally, they provide post-launch services like upgrading any advanced features, adding new capabilities, fixing bugs, etc. The company offers a skilled team and first-rate technology to help you achieve your long-term business goals. To help your business succeed, they offer top-notch customer support as well as post-maintenance services.
9 – Changed Workflow
The new workflow will benefit you right away. By speaking with project managers directly, you may get fast updates without worrying about managing a large staff.
If there are any timing issues, you may let him know, and he will take care of making the appropriate adjustments. The project manager is also in charge of completing the mobile application development process in a manner that benefits your business.
Conclusion
It is obvious from all the benefits listed above why working with the best mobile app development company is preferable to alternative choices. But you still have the final say in your decision as the Android and iOS application developer of your choice.
In-house developers or independent contractors are still helpful in some situations, depending on your individual demands.
When collaborating with businesses, do your research before selecting a mobile app development company. When choosing a mobile app developer, there is no need to compromise.
Take the time to select the top development firm out there, just as you invested money and work into the complete project, and the outcomes will be satisfying.
Get in touch with us to find out how Kretoss Technology the Best Mobile App Development Company in USA and India can help your business in developing innovative apps that will help it expand. Contact us now.