Kretoss Technology For Website Development
The website is evolving as an essential part of human life. Every company or business requires a website to display its expertise, products, services, talents, and other resources. A website can be used to create and update anything.
Kretoss Technology understands the requirements and creates professional and revenue-generated website and content management systems for start-ups and corporations. We are one of the top website development services companies that provide the best web and CMS solutions in USA, India, and all over the world.
Process We Follow For Website Development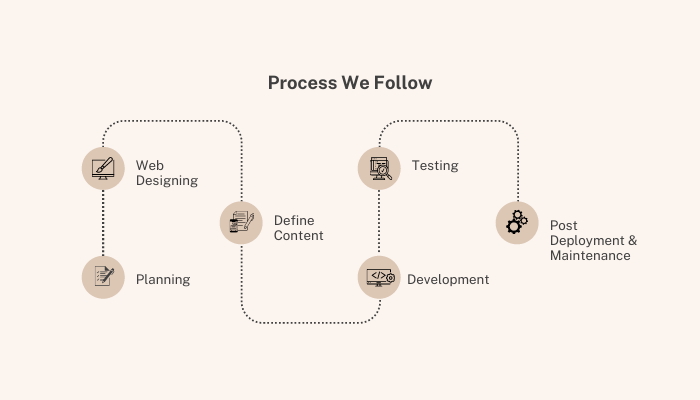 Lets' Understand Each Process Stage of Website Development One by One:
1 – Planning
First, we gather all the relevant information, analyze the project, and build a website and CMS plan.
2 – Web Designing
Following the concept, UI/UX design, and prototype, our front-end designers will develop an outstanding responsive website.
3 – Define Content
Without content, a website is incomplete. As a result, we'll add useful content to the website and optimize it for search engines like Google.
4 – Development
It's time to start developing the website after agreeing on its objectives. The process is the website's pre-final stage.
5 – Testing
A test is required to ensure that the website is bug-free and that you receive a smooth, and user-friendly website.
6 – Deployment
It's time to publish the website when everything has been covered, from design to deployment.
7 – Support & Maintenance
After the successful launch of the website, we will provide you with 24×7 support and maintenance and answer every question.
Connect with a Leading Web App Development Company and Take Benefit from Our Experience
Kretoss Technology is a leading and the best website development services company in USA and India. At a worldwide level, we aim to provide a seamless and robust web application to our clients. 
By analyzing your project requirements and audiences, Kretoss Technology creates the perfect strategic model for your organization by focusing on the current technologies and trends in the market.
We have a team of skilled and experienced web developers working on JavaScript, PHP, CakePHP, Laravel development, NodeJS, Yii, CodeIgniter, and Custom Website Development such as Shopify, Magento, WordPress, OpenCart, and other custom development to produce new website development solutions. 
Companies use these technologies to improve their target audience and improve click-through rates, increasing brand awareness and allowing you to stand out from the crowd.
Why should you choose Kretoss Technology for Website Development Service?
Discuss Your Project with Our Specialists
We always look for a long-term relationship. Kretoss Technology is a trustworthy partner for all of your Web and Mobile Application development needs.
Let's Talk
Top Industries We Serve our Website Development Services
Kretoss Technology has developed Websites for a variety of market industries including finance websites, medical health & fitness websites, and many more. We also have an expert Website Development team that is working on cutting-edge technologies and tools.

Logistics & Supply Chain

Manufacturing & Production

Property & Real Estate

Engineering

Health Care & Medicine

Ecommerce & B2B

Media & Advertising

Hospitality

Social Networking & Dating

Education & Tutoring

Fitness & Beauty

Travel & Transportation
FAQs
Frequently asked questions
We hope we've answered your questions, however, our door is always open for a conversation if you have any more.
We are skilled in developing both web apps and websites. We've worked in practically every type of business with our years of experience, we can design websites that satisfy all of your project requirements. To look at it another way, we develop all four categories of websites/web apps:
Mobile-Friendly Website

Custom CMS-based Website

eCommerce Website

Websites with ready-to-use Content Management Systems (CMS)
The cost of a web app is usually more, and you'll need a website to go with it to represent your online portfolio. Web application development is common since the user interface is significantly different from that of a website, and only an experienced web app developer can create one for you.
Complicated websites, on the other hand, are significantly more expensive than web apps, and a web app will rarely be practical to develop for that kind of website. 
Overall, it's difficult to answer because it depends on the business and the number of users. It's preferable to email us your requirements and we'll give you a FREE estimate of what's possible for your company.
Yes, we will guide you through the process. We've completed several unique projects for our clients in USA, India, UK, Canada, and many countries. You can give us your requirements for a FREE consultation. 
We also have a variety of special websites and web app development services, especially for clients who wish to experiment with the current website development trends with our expertise in numerous emerging technologies.
It undoubtedly will! More people are using smartphones to access the internet than ever before, and this trend is certain to continue. You risk losing a large portion of your potential audience if your website does not display or function properly on a mobile or tablet screen. It means that mobile responsive web design is now required. Every website we make is fully mobile-friendly for our clients.
Nope! We have clients from all across the globe. Our team is working remotely, helping us to hire the right people for the job.
Yes! When our clients take ownership of their website and learn to manage it on their own, we are pleased. We'll provide you with a collection of detailed video tutorials to guide you in learning your way around, and a training session to get you started. (We love answering your queries!)