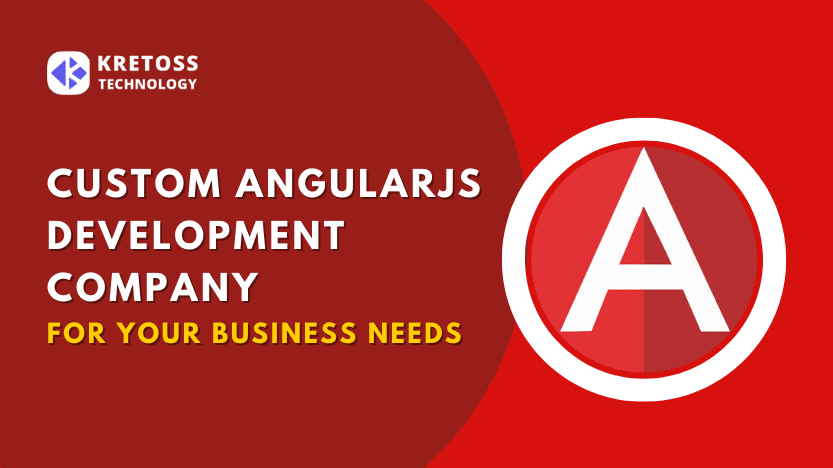 Read why Custom AngularJS Development Company for your Business and Web Application Needs. Know in detail here.
The software market is always expanding, and Custom AngularJS development is one of the newest technologies you may utilize in your development work.
Choosing the appropriate technology, which is now a key milestone in the market and a determining element for corporate performance, comes after the scope has been determined. 
Custom AngularJS Development would be a great choice for you if you want your business to last a long time and expect that an app will be required at some point in the future. 
It is preferable to use Custom AngularJS development for web applications. The good news is that you can be confident you'll receive the greatest front end for your web application with no code and with more effectiveness and no delays.
When it comes to frontend development demands for a more appealing and enhanced user experience, Custom AngularJS development is the finest option, whether it is for a web application.
As you may be aware, AngularJS is one of the widely used JavaScript frameworks that has rapidly gained popularity. Google maintains the simplest and most straightforward testing procedure for the benefit of developers. 
It is also based on the MVC design, like the majority of other frameworks. It follows fundamental HTML and gives programmers the tools they need to create dynamic, responsive websites. Web developers may utilize AngularJS with such ease because it can synchronize instantly with models and views.
Two-way data binding, dependency injections, MVC design, directives, and testing capabilities are just a few of the features that come with Custom AngularJS development. 
It also complies with the Document Object Model (DOM) philosophy, which primarily focuses on enhancing testability and performance.
Why prefer a Custom AngularJS development Company for your Web Application

Facilitating the development of JQuery calls is made easier when Node.js is used as the backend, allowing designers to try more designs and choose the best one independently. They may simultaneously examine the code and guarantee that you receive the precise design you want.
1 – Simple Architecture 
Custom AngularJS development Services are considered the simplest design architecture utilized today and are simple to learn for any developer and easy to increase the features to any extent that the customer demands. 
When it comes to handling large web applications with numerous components and intricate needs, it performs really well.
2 – Shorter Timeline
Because AngularJS is a recent technology derived from HTML, it won't take as long for developers to code the full program. 
With Custom AngularJS development, it's too simple and quick to create new web applications with little work. It is simple to begin started with. A basic app may be created very quickly by adding a few properties to the HTML code.
3 – Lesser Code and Increased Development Efficiency 
Reduced coding requirements and improved development efficiency allow developers to concentrate more on the effectiveness of the program rather than creating a lot of code. 
It is easier to add code lines and provide better results for your firm after a developer expresses interest in a feature.
4 – Two-Way Data Binding 
Two-Way Data Binding manages synchronization between the DOM and the model in both directions, preventing the need to write a significant amount of boilerplate code.
5 – Components that are Simple to Plug and Play
You only need to copy and paste the current component's code into a new web application to use it. Your work is finished. This works flawlessly.
6 – Opensource Community
Because Google and the Opensource platform manage the whole foundation, there is a continually expanding community of highly skilled experts and developers that can help the team at any time.
Given the many advantages of Custom AngularJS development, it makes sense to use the most recent technology for your company because it facilitates faster, more efficient, and cost-effective application development. 
To ensure the business's success, the design and development process has to be organized and simplified. 
It is common knowledge that without sound planning and plans, no firm can succeed. The best approach is to develop the concept properly and implement it with the appropriate technology and marketing. 
Simply get in touch with the Best Custom AngularJS Development Company in USA, UK team to get started on producing excellent online web applications within your budget and shorter development times.