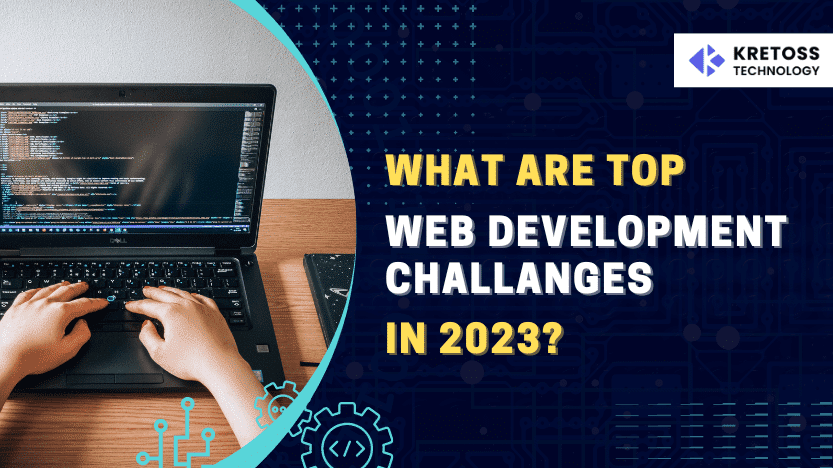 Read What are Top Web Development Challenges which can not be ignored in 2023. Know in detail here.
Recent years have witnessed a dramatic improvement in Web Development. In order to meet the need for customization of the services being created every day, businesses must hire top-choice web developers. 
Updates, handling real-time traffic, improving user interfaces, and complex database management are just a few of the difficulties that Web Development Companies must deal with. 
In recent years, security has also become a major concern for businesses that develop websites. Building single-page dynamic websites to developing advanced apps that employ complex machine learning algorithms for the user's benefit falls within the broad category of website development. 
Even while the coding or backend of some pages may seem to be highly clean and pleasing to the eye, it may be difficult to look at. In Web Development, changes take place as quickly as light. To make the website more interactive and therefore increase the engagement rate, newly hired web developers need to have a sense of originality and creativity.
Top Web Development Challenges In 2023
Here are the top Web Development challenges that tend to arise and can't be ignored in 2023. 
1 – Browser Compatibility
One of the biggest problems facing Web Development Companies in the next years is browser compatibility. 
It has become essential in the field of Website Development to develop websites and applications that are compatible with the numerous browsers on the marketplace. People use many different devices these days, therefore code flexibility is essential for positive ratings.
As most traditional browsing platforms do not support specific fonts, layouts, and security checks that may cause difficulties when launching a particular website, this is one of the most important factors to be taken into mind.
Internet Explorer was one of those browsers, although it hasn't been updated since June 2022.
2 – App User Experience
Working on the front-end User Interface or User Experience, often known as UI/UX, is another excellent example of a challenge faced by web developers. 
There are two sides to the magic you see when it comes to Website Development. The front end and back end are the names of it. 
The front end interacts with the user, and the back end manages the database that holds the client's sensitive information while keeping track of user inputs. 
Making a website's front end more user-friendly, interactive, and attractive is the challenging part. To make work allocation simple and provide an evaluation to the clients who are their leads, businesses hire web developers on a huge scale.
3 – Website execution, Speed, and Response Time
The area of Web Development is expanding rapidly. Numerous studies have shown that audiences' attention spans are getting shorter as a result of rapidly expanding apps with brief information.
This is the reason why a successful Web Development Company needs to have speedy, responsive, and eye-catching websites and apps. There are numerous approaches to this.
They are as follows:
Code optimization by the removal of unnecessary GUIs and libraries.

The images are optimized by reducing the size of the image rather than reducing its quality.

Web developers should use fewer plugins to speed up the loading of their websites.
4 – Website Scaling
It is important to include features that the website may use without facing any problems. 
For Web Developers, this work can get repetitive. Websites must be developed with both front-end and back-end mobility. This helps the Website Development Services provider company avoid problems like data redundancy, concurrency, and speed concerns.
Using React JS within the frameworks is one of the major solutions to these issues and considerably simplifies the task at hand.
5 – Security
This has caused headaches for all companies, as the term implies. We take protecting your privacy very seriously. Even huge companies, like Facebook, are having problems with lawsuits. 
When Mark Zuckerberg was questioned in court, this was seen. Data manipulation and hacking have become incredibly common, and the risk of a leak of highly sensitive information increases. 
Since the main goal of any business is client satisfaction, in such conditions the reputation of the website development company is put into doubt.
Conclusion
Overall, by being aware of the challenges in web development, you can implement them into your websites and be prepared for 2023. Additionally, it will keep your websites at the top in terms of user experience and visibility.